Catamount Kids gives children an opportunity to explore science and the natural world.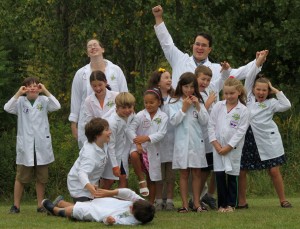 Catamount Kids was founded by Dr. Gerald (Gerry) Herrera and his wife, Mary Dove, in 2011.  This program grew out of a desire to provide science enrichment activities for their home-schooled children, as well as children from family friends and children of employees of our companies
Med Associates Inc.
 and
Catamount Research and Development Inc.
Initial interest in Catamount Kids was overwhelming, and class sessions filled up fast.  We have continued to develop our curriculum to provide as many opportunities as possible for interested kids to join our program.  Our classes are now attended by home schooled students, students attending public schools, students attending private schools, and students from families of our employees.
 Fostering an Environment for Learning
Our goal is to provide a fun atmosphere where kids can come together and share their enthusiasm for science.  We are firm believers that exposing kids to science and research at an early age will help them to develop their minds, regardless of which educational path they follow.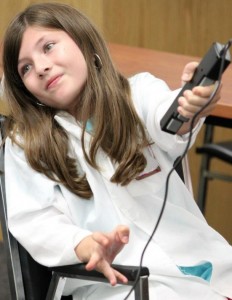 Furthermore, we believe that using state-of-the-art technologies, tools, and hands-on experiments is an ideal way to involve kids in science.
In our program, kids will learn how to record observations on charts and in notebooks, how to make predictions about t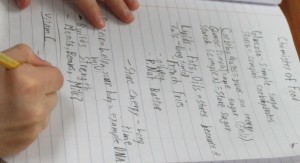 he outcome of an experiment, and how to compile their observations to make informed conclusions.
Our Programs
Elementary School (Grades 3-5)
The first curriculum we developed was our Elementary Program designed for kids in grades 3-5 (~ages 8-10). We now have a full three-year curriculum for this age range. Classes include:
| | |
| --- | --- |
| | |
| Leaf Chromatography | Learning about DNA |
| | |
| |   |
| Measuring Temperature |  Measuring Pressure |
| | |
| |   |
| Geology and the Scientific Method | Dental Hygeine |
| | |
| |   |
| Learning about Density | Measuring pH – Acids and Bases |
| | |
| | |
| Polymer Chemistry |  Learning About Microorganisms – Microbiology |
| | |
| | |
| Static Electricity | |
Middle School (Grades 6-8)
Our Middle School program started in the spring of 2015, and is currently being further developed.  Courses now include:
| | |
| --- | --- |
| Introduction to Computer Programming using LOGO | |
| Building an HTML Web Page | |
| The Rock Cycle and Mineral Identification | |
| Physics of Simple Machines | |
| | |
High School (Grades 9-12)
Our High School program is in development.  Look for classes to start by 2018!
Summer Camps
In 2012, we began offering summer camp programs, full of engaging hands-on science-based learning activities.  We try to offer one or two camps each summer.  Some popular camp offerings have been:
Learn to Solder (for beginners and experienced alike)
Introduction to Electricity – Squishy Circuits
Chemistry Basics
Biology Basics
Geology of Vermont
Parent's Night
It's not just for the kids any more!  We started having parents say to us, "That looks like so much fun, I wish we did that when I was in school."  So, we decided to start Catamount Kids – Parents Night.  So far, we've done our Learn To Solder activity as a Parent's Night activity.  Parent's Night is a fun way to learn about the Catamount Kids program, meet other parents with kids in the program, and to just have fun doing science activities.
Movie Night
From time-to-time, we also run our Science Movie Nights.  Our goal is to feature a movie or program that has key science-related themes.  We usually have discussions and learning activities focused around the theme of the movie/program.  We also serve pizza, drinks, and delicious popcorn made in our Movie Theater Popcorn Machine!
About The Herreras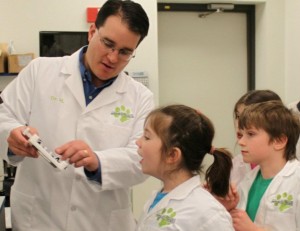 Dr. Herrera (a.k.a. "Dr. H.") obtained his Ph.D. degree in Molecular Physiology and Biophysics in 2001 from The University of Vermont where he worked in the laboratory of Dr. Mark Nelson studying excitation-contraction coupling in smooth muscle.  Gerry is currently the President of Catamount Research and Development Inc., a company that specializes in designing and developing instruments for scientific research.  He is also an Adjunct Assistant Professor in the Department of Pharmacology at The University of Vermont.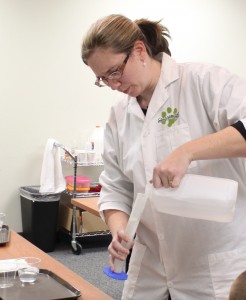 Mary Dove Herrera earned her B.S. degree in Psychology from The University of Vermont in 2002.  As an undergraduate student, Mary Dove studied mechanisms of learning and memory in the laboratory of Professor William Falls.  Mary Dove handles all the communication and administration functions for the Catamount Kids program, working with parents to ensure that the children get the most out of their experience in the Catamount Kids program.  Mary Dove spends much of her time home schooling their children and working with other home school families in the area.