Register Now for Catamount Kids September 2014 Science Movie Night!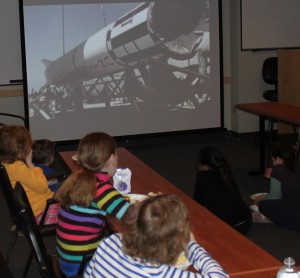 Our Science Movie Night continues… The next session will be held on Friday September 26, 2014 from 6:00 to 7:30 PM.
Science Movie Night is a chance for kids to relax and have fun with their friends while watching an inspiring science, technology, and research-themed program.  Kids will be encouraged to talk about the program content as a group.  A brief introduction to each topic will be provided by Dr. H. before starting the program.
The September 2014 Science Movie Night will feature Episode 6 from the Discovery program "When We Left the Earth."
Cost is $5 per attendee.  Pizza and drinks will be provided.
Please fill out this form with your contact information.
NOTE: Please fill out one form per child.  If you intend on registering multiple children, please submit one form for each child.